to Luv'N Chins!




Please check out additional links
as you scroll to the bottom of the page!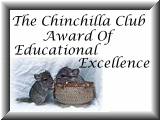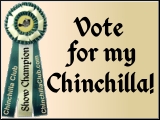 *NEW*
Mookie's Chins
Mookie's Chinchilla Drawings
See the love of chinchillas through a young ladie's eyes.
In God We Trust
Everyone else pays cash
2007 Empress Annual Meeting
What do the judges look for in a chinchilla show?
Share a weekend of fellowship and education all about chinchillas.
You are sure to learn something new!
I will activate each page as it is completed ... size = +.5>

Page 1



2007 Chinchilla Club Field Day
Have you ever wanted to know what happens at a Chinchilla Field Day?
It is very informative!
What makes it fun? It's a mock show, but better!
Here you can have an idea of what it is like ... size = +.5>

Page 1 Page 2 Page 3 Page 4 & Page 5




The Diet of the Wild Chinchilla
Have you ever wondered what plants
chinchillas in the wild eat,
and what the plants look like?
Check it out here!




2007 MCBA National Chinchilla Show
Have you ever wanted to know what happens at a Chinchilla Show?
Check out what makes a show fun!
What makes it informative?
Here you can have a peek ... size = 1>

Page 1 Page 2 Page 3 Page 4 & Page 5




Chinchilla Jigsaw Puzzles
In the process of adding new Jigsaw Puzzles.
Watch as each new picture is added!


Chinchilla Priming Chart Wheel History
What is "prime"? When should your chin go into prime?
An Actual Chinchilla Priming Chart
When and why should know when your chin is going into prime?
Dictionary of Common Chinchilla Terms
Confused with the different terms/words used? This will help!
My Precious Peaches
Precarious Preemies!
To ORDER ... Please, click HERE
and enter "Chinchilla Pins" in the subject line!
Your Chinchilla ... Your New Family Member

C ~ Curious little creatures will find anything you can imagine to get into.
H ~ Hypoallergenic --- no smell and no fleas!
I ~ Ingenious --- particularly when it comes to finding a place to hide.
N ~ Naughty --- only when you let them in areas they should not be in.
C ~ Clever in finding ways to get your attention is the little chinchilla.
H ~ Hungry --- especially for treats, and they will let you know it!
I ~ Incredibly unique is this little fur-ball.
L ~ Love is what you will learn from them because that is what you will get.
L ~ Laugher at all the antics they do is better than any medicine!
A ~ Adorable little rascals who happily reside in their cages, sleeping peacefully while you work. When your work is done, they are ready to play and help you laugh away all the troubles of the day.



What's it like to have a chinchilla?
*** They never need very much, just fresh water and food daily and a little cage cleaning once and a while. In return they will run to greet you when you enter the room, wanting to play or sit on your shoulder while you're on the computer. Running across your papers or stealing your pencil while you do your homework is a favorite of thing of theirs.

*** Become a child again, lay on the floor and let them play with you! They will tickle your nose with their whiskers and comb your hair with their paws. If you're really lucky you'll get 'sugars', too. When they sniff and smell, this is the proper way chins say "Hello", so please, say "Hello" in return in the proper chin manner and they will accept you as a big chin. A most delightful thought!

*** The softness of their fur is only surpassed by the spot in your heart they will make if you will let them come in. A gentle voice and a snuggle close to you is usually all they will need to calm them. Hold them close, but not to tight, for their tiny bones are fragile.

*** Taking the time to learn their personalities is delightful. They will let you know what they want or need in special ways, all you have to do is pay attention and remember. Listen to the sounds they make and where they stand in the cage. Hungry? Some may turn their bowl over and stand on it to let you know it is empty, others may stand beside the bowl with their front paws on it to bring to your attention that the bowl is empty and they are hungry.

*** Each has it's own special place to be rubbed or scratched. Under the chin, behind the ears, on the belly and on the front of the collar bone, are all places I have found they enjoy. The content look on their faces will be evident, as they tilt their head, close their eyes and smile.

*** Bath time is another time to enjoy, just wear a painter's mask! They will flip and turn in their bath dust fast and furiously, flinging dust into the air. This is best done in a room without carpet. For all the mess that is made, it doesn't really seem to matter, because you are still laughing at the hilarious sight of this furry little ball scratching first, then flipping over and over in a pan of dust, shaking it off like a dog, then repeat it, just to shake it off again!


All this joy rapped up inside a little ball of fur called a CHINCHILLA!
Chinchilla Video
Please note:
The cages used during the making of these movie clips
are NOT the normal cages they live in.
They are much to small for that.
These are holding/travel cages only.



***Best Viewed With Cable or High-Speed***



"Simple Chin Toys"


Home-made toys chinchillas love to play with!


"Chewing Chins"


What they need and do not need!


"Hopping Kits"


Kits vie for your attention!


See Dusty's "Chin-Flips"


He loves to get everyone's attention this way!


Chubby Loves to do Back-flips,too!


He's Teaching His Daughter!


"Demanding Kit"


She's determined to get mom's attention!


"Lady & Kit"


The love of a Great Dane for chins ... and visa versa!


"Bath Time!"


A favorite time for most Chinchillas!


"Hungry Kits"


Kits let mom know when they are hungry!,/size>



Lake Applet of Baby White Mosaic


A chin and a reflection pond.





Puzzles!



Chinchilla Jigsaw Puzzles
In the process of adding new Jigsaw Puzzles.
Watch as each new picture is added!


The 5 New Puzzles on the Kids Page!
~Try all of them ~
Each one slightly harder than the one before.
Cartoons!
Dare to Smile!
CARTOONS ARE FOR ALL AGES ...
NOT JUST FOR KIDS!
A Chin's Point Of View
3 Page Cartoon ~ A chin & a Great Dane!
Chinchilla Cartoons
Life as a chinchilla!
Chinchilla Cartoons Page 2!
I told you I was a girl!
Chinchilla Cartoons Page 3!
Can't find me here!
Time Alone
*** A Relaxing Dust Bath ... NOT! ***
A Chinnie of Your Own?
Hints For New Chin Parents
& Chin-Parents-to-be!
A "heads-up". ~ Things you may want to know.
Supplies for Your Chinchilla
Necessary, Optional and the "No-No"s.



Chinchilla Gestation Chart
& a Few Other Hints
How long is the gestation period for a chinchilla?
Things you may want to get to be prepaired for the new arrivals.


Luv 'N Chins' Chinchilla Booklet
The bare basics!


Example of an Adoption Page
Kits, Youth & Adults


Example of an Adoption Contract
Please Read!


In God We Trust
Everyone else pays cash


A Reason for an Adoption Contract
Times Have Changed!





Recent Articles:



Chinchilla Dictionary
Confused with the different terms/words used?
This might help!


Pictures from the Chinchilla Show in Rock Hill, S.C.
Southeast Coastal Chapter of the M.C.B.A.
Chinchilla Shows are where you see what a chinchilla should look like!


Breeding 101
Considering Breeding? ~ Do You Know?


When is Your Little One Due?
Chinchilla Gestation Chart


The Title "Breeder"
It carries lots of responsibility!


My Precious Peaches
Precarious Preemies


*"Giget & Her Quads"*
3 Pages ~ The first 4 days in the life of Quads!


*** Contains Video ***


Jamie, Cover Chin
A cute little female violet chinchilla.


The Changing Look of a Mosaic
The ugly duckling story, chinchilla style.


A Special Pair
One kit being a 'big brother' to another kit ...
when he needed it the most.




Our Dogs:



Our Great Dane, Lady
An addition to our family ...
One that has proven to be very special.


Our Great Dane ~ A Chin-Sitter???
See how gentle a "Gentle Giant" can be ...
Lady takes her job seriously!



*NEW: Our Second Great Dane, Raven
A new addition to our family ...
& Playmate for Lady.



Soon to come ...
Buster, our Pomerian &
Raven, a new little Great Dane.




Great articles on health & happiness for your chinchilla!!!
Email me with your questions about chinchillas
Check out the Chinchilla Club Book Store!
This is a web site I highly recommend ...
for those who want to send something special ...
to their friends and family, year round.